Effective Police Training
Hosted by the Newark Police Department
CA POST Certified:#1345-31759-23-001
A course for trainers and agency leaders looking for new and effective approaches to police in-service training.
"That's the way we've always done it" isn't good enough anymore, especially when your officers are facing unprecedented scrutiny and legal exposure. We belive the way your department conducts in-service training for officers should be effective, but when is that last time you took a hard look at how that training is conducted?
Join us as we explore the issues with conventional in-service training and why it isn't truly preparing officers to perform in the field. We'll examine the contemporary methods some progressive agencies are using to train their staff and the success they are seeing. You'll walk away with simple tools you can use to improve your department's in-service training.
Curriculum Includes:
How to create realistic scenario-based training that will lead to improved performance in the field
Teaching adaptability, sense-making, problem solving, and decision-making instead of just teaching techniques
Interleaving diverse topics such as firearms, defensive tactics, legal update and more to create holistic training that works
A step-by-step walkthrough and videos showing how the instructors used these methods in their agency
Learn how to increase the effectiveness of your department training. The instructors will share the techniques they used to create training that works.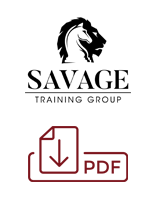 Download a flyer for this course.
Payment Methods
Once you enter the student information below and click "Register", you will be taken to a checkout page where you can pay using a credit card, or you may request that an invoice be sent to your department that can be paid online or by check and sent by mail. Please note that invoices incur a $15.00 non-refundable processing fee.
This course is full, but occasionally spots open up due to cancellations or other reasons. To be added to the wait list please contact us. We also encourage you to check our Training Schedule to see if there are other courses coming up in your area that you might be able to attend.