Advanced Crisis Negotiations
A modern training course taught by current and highly experienced negotiators
Underused and underappreciated, being a police crisis negotiator can often be a thankless position. And when those negotiators seek out good training courses to attend, they are forced to settle for antiquated debriefs or the feeling that the training really didn't apply to them. We believe crisis negotiators deserve better!
Our instructors are both current Team Leaders on a busy urban team, so they know exactly what works and what doesn't. They'll share with you what techniques and equipment they used last week, not 20 years ago!
Students Will Learn
How crisis negotiators can become an indispensable asset to your agency
How new use force and eavesdropping laws affect negotiators
How the public duty and special relationships doctrine affect tactical decision-making
Disengagement and re-engagement plans for barricade incidents
Modern negotiating techniques including video chat negotiations
…and much more.
You'll see recent body-cam video of actual incidents and work through table-top scenarios all while our expert instructors guide you.
What this course is NOT:
"Death by Power Point"
A repeat of a basic negotiations course
Dated debriefs and war stories
Hostage and crisis negotiators deserve an advanced crisis negotiation course.
When a crisis is beyond the capabilities of regular patrol officers, crisis negotiators like you get the call. Are you prepared? We know you have limited training time and a million other things to do. We get it! Come spend two days with us learning what works and what doesn't and leave the course with a whole new set of tools for your negotiation toolbox.
Your instructors are both Team Leaders on a busy negotiation team: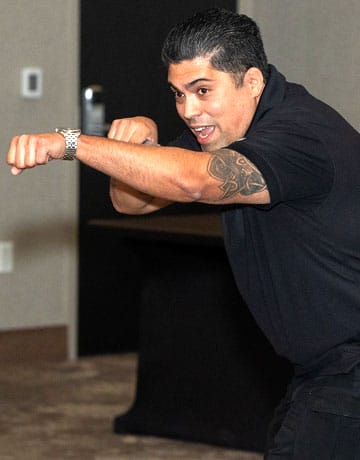 Donald Anderson
Sergeant Donald Anderson is the Executive Officer and a Team Leader on the San Francisco Police Department's 40-person Crisis Negotiation Team.
James Tacchini
Sergeant Tacchini is a Team Leader on the San Francisco Police Department's 40-person Crisis Negotiation Team.